Excutive Director's Corner
Meet Sallie Campbell ~ our new Interim Executive Director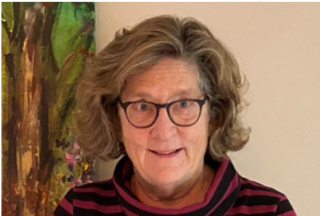 I am very happy to be working as the Interim Executive Director for Loaves and Fishes Ministries.  I appreciate the faith that the Core Community Board of Directors (CCBD) has in me to help keep the organization on track, as well as move forward.  I have been working in the Lansing community for most of my adult life, in one role or another.  I graduated from Western Theological Seminary and learned there that "mission" often comes to us, in a wide range of opportunities.  I have worked in ministry and social services in a variety of settings since then. I love people.  I have always enjoyed learning about their lives and seeing how God works in such wonderful ways, not only through us, but also through the people around us.
My first day as Interim Executive Director was September 30th. Since then, the guests whom I have met at Loaves and Fishes Ministries have been very warm and welcoming.  I obviously don't know them well yet, but they certainly appear to be humble folks who need a little support and love to help get them on a path to a brighter future.  I am already feeling very proud to be associated with this organization and all the work that goes on here.  The community is well-served and I am optimistic about how I might contribute in positive ways to the work in process and changes for the future.
The staff have all been extremely friendly and helpful to me since I came.  They are very personable and obviously dedicated to their work here. They are sharing their enthusiasm with me and helping me get connected with our guests and the protocols that are in place.  There is a lot to learn, as the work here is enormous and busy.  But the positive atmosphere and continued love and support for the people living here is obvious and the relationships among the staff and guests is contagious.  It's a joy to come to the office in the morning and be greeted by smiles and the commotion of people getting ready to go out and face the world for another day. ("Staff has expressed mutual love and appreciation for Sallie!")
While some of the members of the L&F CCBD are relatively new, a few others I have learned have been with the organization from the beginning and continue to serve in many ways.  They are a working board and visit the shelter often.  It's nice to see how comfortable they are coming there and sharing their skills in a variety of ways.  There is a very loving and unconditional atmosphere at the shelter that is easy to see and feel.  The guests experience being genuinely cared about while they are guided to a new path for themselves.
I'm in awe of the history and dedication of the donors who have supported this organization for so long.  I'm still learning…but from what I have seen, certainly the staff and the board have worked together, particularly during Covid, to keep this shelter safe and running smoothly.  But none of that would be possible if not for our donors and volunteer supporters being "the wind beneath our wings."  Thank you for your continued belief in the work of Loaves and Fishes Ministries and its compassionate care toward the folks here who are experiencing homelessness.  Your support makes what we do possible and is life changing for those being served through your generous contributions.
Blessings & Peace to you all. Please join us at a "Meet and Greet" Open House, Dec. 4, from 2 to 4 pm,  so you can see where all this good work is happening and meet the staff and CCBD members who support it all.