Excutive Director's Corner
A Warm and Loving Farewell Message to Interim Director Sallie Campbell
By Oliver Graham, L&F Volunteer Coordinator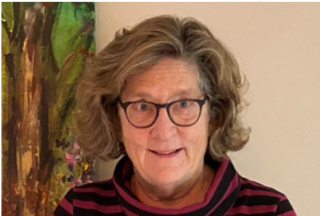 "It is an absolute human certainty that no one can know his own beauty or perceive a sense of his own worth until it has been reflected back to him in the mirror of another loving, caring human being." ― John Joseph Powell
Hi! My name is Oliver. I am the Volunteer Coordinator at Loaves and Fishes Ministries.
I would love to be able to draw a clean, straight line between leaving a career in real estate, to working as the volunteer coordinator in a homeless ministry, however, any attempt at such a line would be a lie. I left my career during a time of personal turmoil, and long before finding Loaves and Fishes Ministries. I found Loaves and Fishes as a guest, marking the end of a crisis, and the beginning of something new. I very much refer to my arrival at Loaves and Fishes as a re-birth, but that's not exactly what it was, or more accurately – that's not the interesting part to me.
Have you ever looked at a plant, maybe sitting on a table, and thought I should move that to the window and get it some water before it dies? Then, maybe a few days later, you start to see the plant stand up a bit, or start to bloom? Your care saved its life. It wasn't a big deal to you. You've done it before. You'll probably do it again.
Sallie Campbell, who served as L&F's Interim Executive Director for nearly 8 months sees humans this way. Show her someone who is broken beyond measure, and she will do everything she can to prove you wrong. She will move that plant into the light, and give it water, and rejoice in the new life.
The word "Unfixable" is not in Sallie's dictionary.
Sallie is quite tall. If you need help, Sallie's hand is already up. As a guest at the shelter, this was very helpful, and as her employee, a bit tiring, but that is the heart of the servant — The hand still finds a way up when the arm has had enough.
Sallie is a light that shines everywhere she goes. Thankfully, I found that light when my life was dark, and I felt like a weathered, withered flower.
I don't know if there will ever be a way to really thank Sallie for giving me the water and sunshine I was in such desperate need of, and you can't really repay a person like Sallie. Mostly because she is faster than you, and you will not be able to keep proper track of her, but what I will do, in honor of her work and her heart, is try harder to not give up on people. I will fight myself to not give up when I feel myself giving up. I will fight for others and advocate for others, tirelessly, until freedom, justice, security, and peace are back on the table for them.
Sallie may have been an Interim Executive Director, but the impact she made on the lives of the guests at L&F and others in the community will continue to grow, in the shelter, and the community (See Soul-Stirring example below). The support and encouragement that is so natural to Sallie have helped people find work, find homes, but most importantly – find themselves. With all of the love a human can have for another human, hear me when I say: "Thank you, Sallie, for helping me find my way back to myself. I will do my best to not let you down and will try to be more like you in my daily life." ♥♥♥ Oliver Graham
♥♥♥ A Soul-Stirring example of Sallie's loving response to a Mother in need. ♥♥♥
" Dear Sallie, A week ago, I called Loaves & Fishes looking for a safe place for my cognitively disabled daughter (who lives in East Lansing) to sleep for the night, after having been sexually assaulted two days prior. You were so kind, so caring, so willing to think deeply about resources that might help her even though all the beds at Loaves & Fishes were spoken for. That level of compassion, generosity, and wisdom came just at the right time for a mom 80 miles away who needed to take a deep breath and be reminded that kind people are everywhere, even if 'program dollars' are scarce. Thank you, All the Best" (name not included to protect the identity of the writer)
~ ~ ~ ~ ~ ~ ~
Following our Interim Executive Director Sallie Campbell's departure in May, Teri Looney joined the Loaves and Fishes Ministries team as our new Executive Director in June of 2023. Teri comes to L&F with more than a decade of nonprofit leadership and volunteerism in her background. Please join us in welcoming Teri to the team and look for updates in the coming months as she settles into her role.